Language is central to students' intellectual, social, and emotional development and has an essential role in all key learning areas.
The learning experiences will assist students to become competent in English and to use language effectively in a range of contexts (English Syllabus K–6).
At Sacred Heart Primary, we believe children learn best when:
there is focused learning which centres on the needs and learning style of individual students
they are engaged in meaningful activities based on prior knowledge and experiences
all stakeholders know the outcomes learners are working towards
they are exposed to good models in a motivating and 'risk-taking' environment
teachers are open to ideas and are actively engaged in professional development.
The students are taught by a dedicated team of experienced and highly qualified teachers who will develop their enjoyment, confidence and independence as language users and learners. Classroom teaching programs are structured to focus on the learning needs of all students to gain maximum success.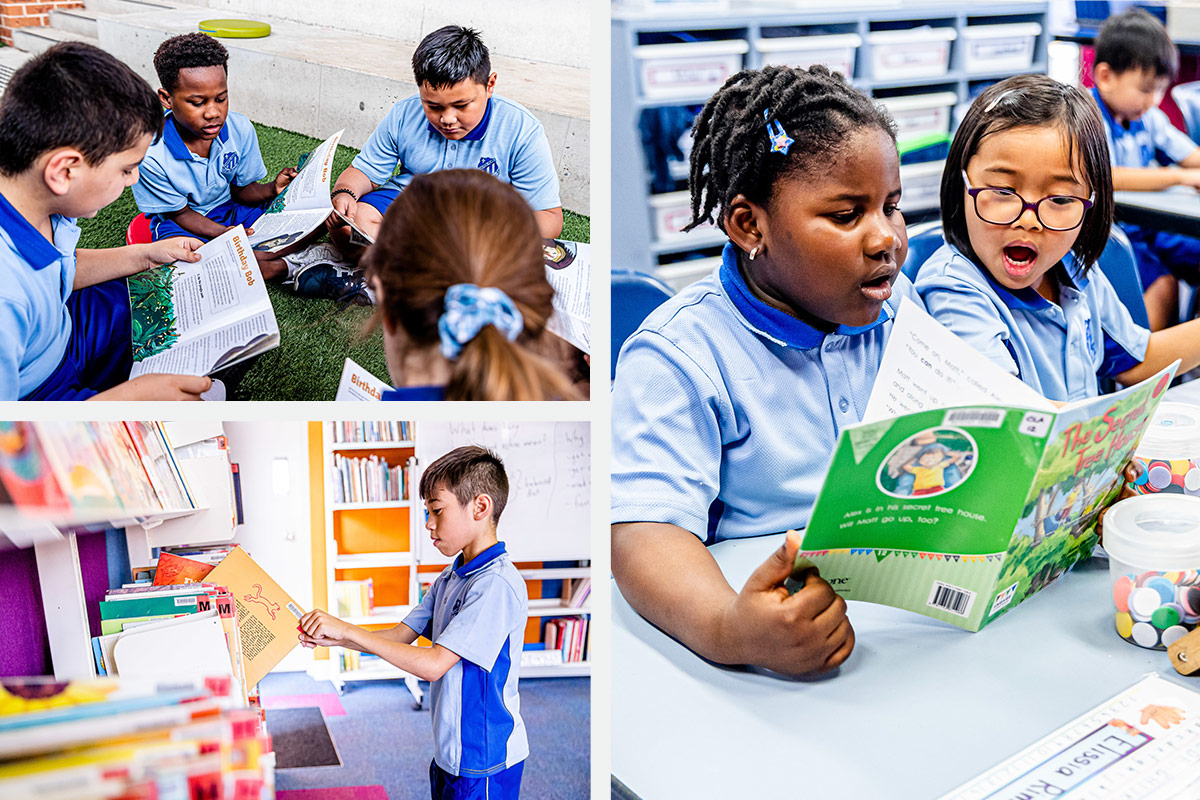 At Sacred Heart Primary, students:
are actively engaged in all learning opportunities provided
will become responsible for their own literacy learning
will become confident in accessing different sources of information within the class, e.g. teacher, peer, modelled text, parent, etc.
will confidently share and discuss their learning
will work independently, in small groups and as a whole class
will read at home each night.
At Sacred Heart Primary, the environment will be conducive to learning, by:
having appropriate learning tools and resources easily accessible
providing a 'safe' atmosphere where risk-taking is promoted
using a variety of learning texts
allowing for appropriate strategies, i.e. the whole, small, individual approach to learning
using specialist support services during the literacy block
using visual displays, e.g. spelling rules, word families, word banks, word towers, written texts, modelled writing and reading
incorporating technology into the learning of literacy.
During literacy, students are:
working at stage-appropriate levels
actively engaged with levelled texts
confident to take risks
actively participating in small group activities
actively engaged in learning opportunities
participating in guided reading and writing
enjoying their learning
sharing their learning experiences.
The teacher will:
regularly assess children's progress
group children according to their stage of development
provide and monitor levelled reading material for guided reading, reciprocal reading and reader's circle
direct daily guided reading and writing in accordance with the children's level of achievement
prepare appropriate resources
be actively involved in all aspects of literacy
encourage home reading by providing levelled texts
continuously assess reading using running records
display an enthusiasm for literacy
have high expectations of the children
provide stimulating and challenging activities
prepare and use focused activities
use the whole, small, individual approach to learning.
Literacy based activities
Voice of Youth
The Voice of Youth is a public speaking competition for Year 6 students. All students are given the opportunity to present a short oral presentation on an issue that is close to their hearts. Following a school competition, a small group of students represent our school at the cluster final. In previous years, Sacred Heart Primary students have been awarded places in the zone final and been presented with the Social Justice Trophy, for creating awareness of social justice issues.
UNSW Competitions
These competitions are available to all students in Years 3–6 and cover English, Mathematics and writing.