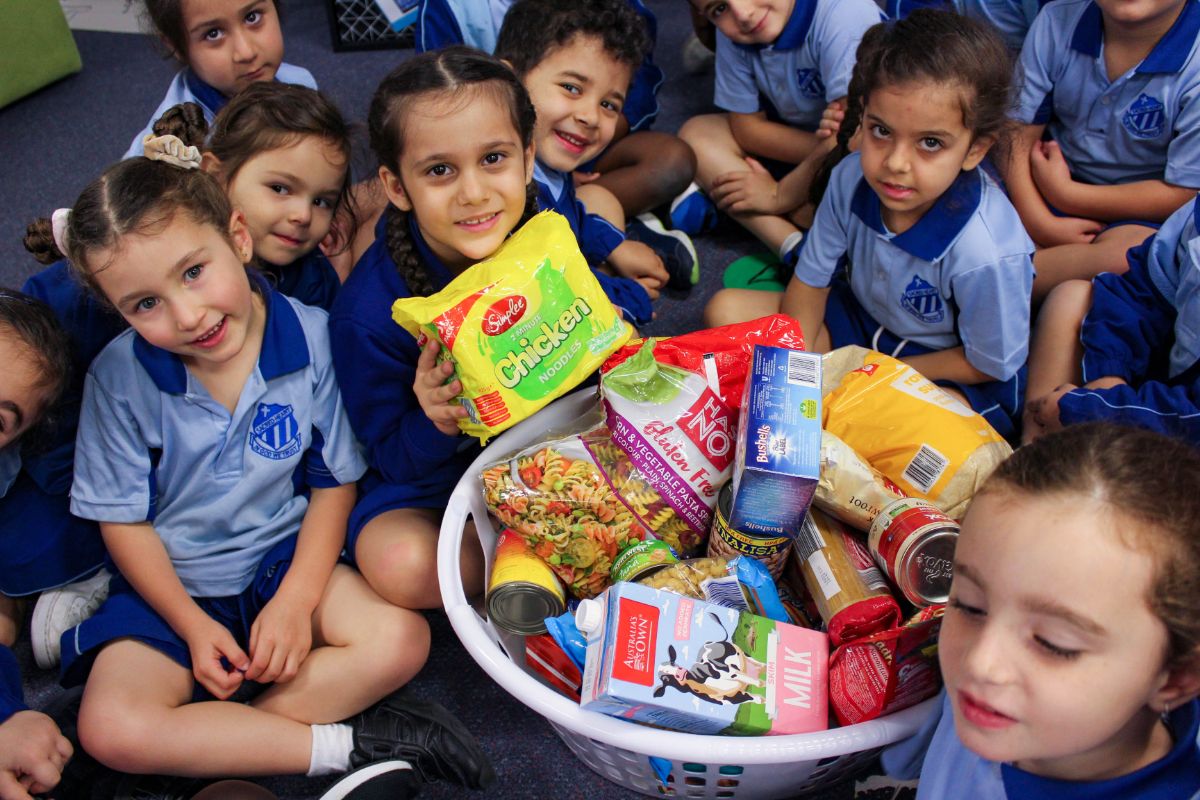 Despite a challenging year as a result of COVID-19, students at Sacred Heart Primary Mount Druitt have the needs of others at heart. Their recent Mission Week sought to bring hope to the community and joy to those in need.
Students were able to raise more than $2000 to assist organisations far and wide, write more than 100 cards and letters, perform many random acts of kindness and donate grocery and stationery items. There was also plenty of opportunity to spread joy within Sacred Heart as students had the chance to collect 'Random Acts of Kindness' cards, participate in lolly guessing and bottle top guessing competitions and enjoy a variety of other fun stalls throughout the week.
"This week was a great opportunity to learn the importance of being the hands of God," said Year 6 student Catherine. "By helping out these charities and foundations we were able to be part of the movement of spreading hope and joy in situations where it's needed most."
"It was a chance for the entire school to learn about many different causes around the world and places that may not have school supplies or food to eat," said Year 6 student Talia. It was a privilege to be able to help those in need and an honour to know that our contribution to these foundations will change someone's life."
After expressing a desire to help, students were given the opportunity to brainstorm ideas for ways to reach out to the marginalised within the community. The students received some lovely feedback from the organisations they helped.
"Support from schools and parishes, such as the lovely donations from the students at Sacred Heart Primary, is about much more than simply providing much needed food for asylum seekers, many of whom are getting by on little to no income," said House of Welcome Casework Manager Georgia Holloway. "It's also a meaningful act of solidarity, reminding them that they are valued in the Australian community and have not been forgotten during these difficult times."
Those who benefitted from letters written through the 'Letterbox project' were also incredibly grateful. Thanks to a letter writing station, dozens of cards and letters were written for the elderly, lonely, neighbours and those in isolation.
Some of those found their way to the residents at the St Agnes retirement village in Port Macquarie including Debbie who is terminally ill in the dependency section of the nursing home.
"A simple card can make a huge difference to someone else's day," said Debbie's mum Marg who is also a resident. "The cards meant the world to Debbie. Everyone here has been so moved and touched by the thoughtful messages from the students at Sacred Heart."
Even the local postman was moved by the cards. "I'm having a great time being the 'Hope and Joy' postie," said Jim. "They have really made a huge difference to so many people, many who no longer have any contact with children."
---
Below are details of the other initiatives that took place during Mission Week: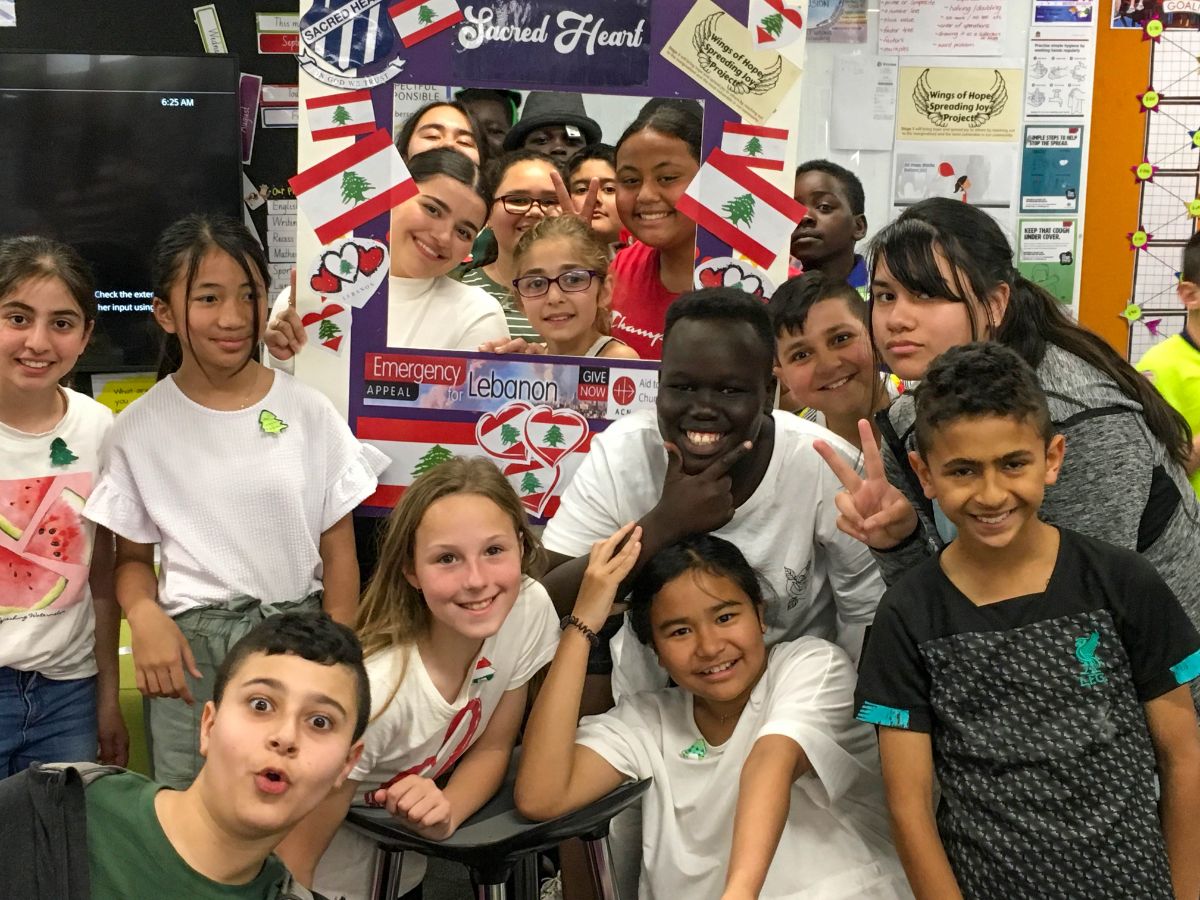 Hope for Lebanon
The Hope for Lebanon team held a whole school mufti day where students dressed in Lebanon colours of green, red and white. Students raised funds for the Beirut Appeal through ACN (Aid to the Church in need).
"The smiles on the kids' faces when they heard about where the money will go - to send emergency food packages to Beirut and raise awareness - it's like their smile was contagious because their smile made me smile as well," said Angel (Year 6).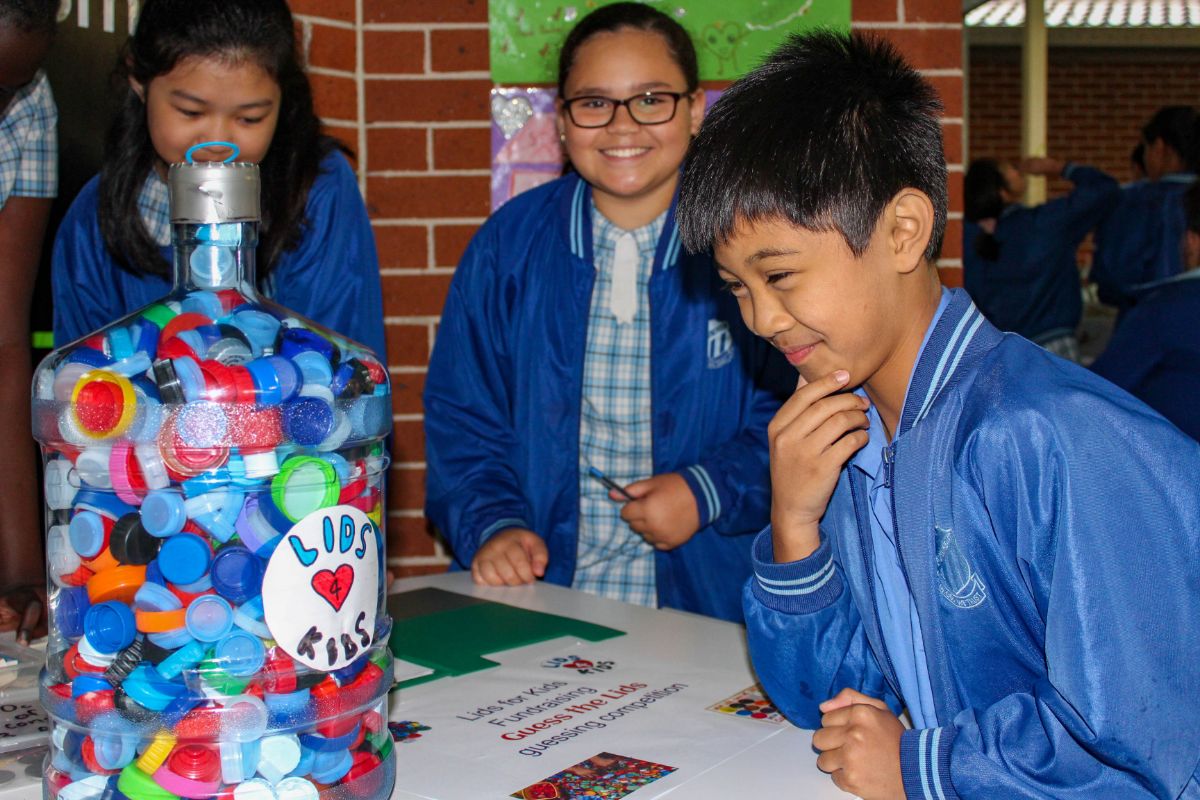 Lids4Kids
The Lids4Kids team asked everyone to bring in bottle lids to save them from going to landfill and to help Aussie kids with a variety of items made from the lids collected. The students also enjoyed a lid-guessing competition.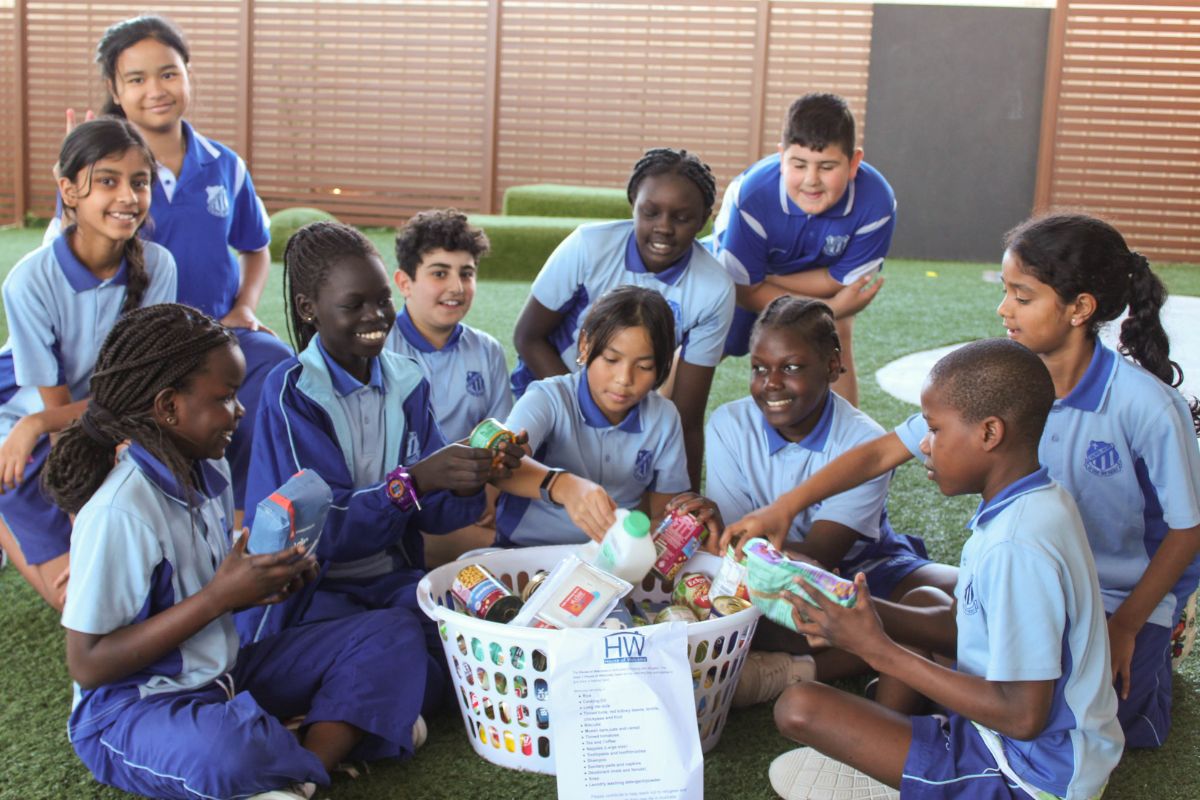 The House of Welcome
The House of Welcome team set up baskets to collect food and other grocery items for refugees in need. The school was able to donate seven baskets.
"I donated because I know they'll be so happy and grateful," said Awein. "If I was a refugee, I'd hope that others would do the same and help me, that's why I donated"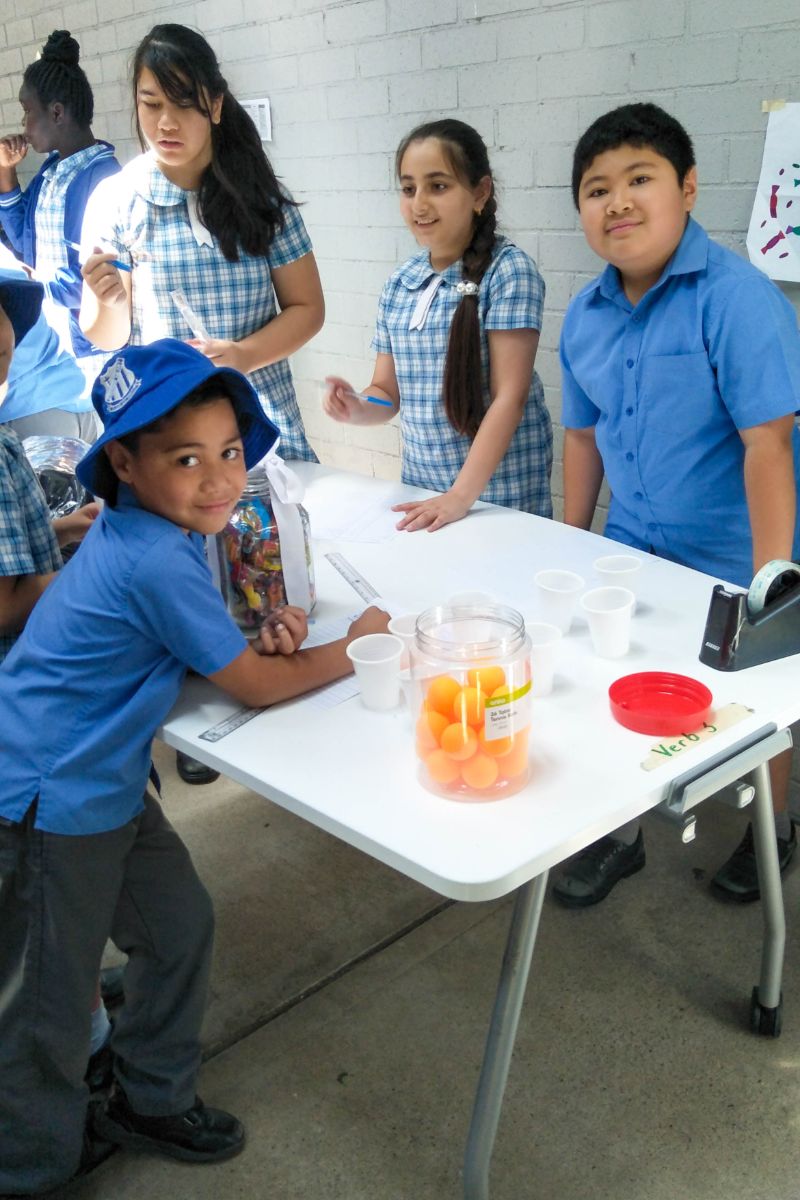 COCOS
The COCOS team held mini games and a lolly guessing competition to raise funds to purchase 22 sleeping bags for the Coptic Orthodox Community Outreach Service in Parramatta, which provides hot meals, drinks and clothing for the homeless.
Footy Colours Day
The Footy Colours Day team had already organised a mufti day earlier in the term and added to this with an ice block fundraiser to donate money and raise awareness of childhood cancer.
School Kit
The School Kit team collected donations of stationery school items to distribute to members of the school community who need them.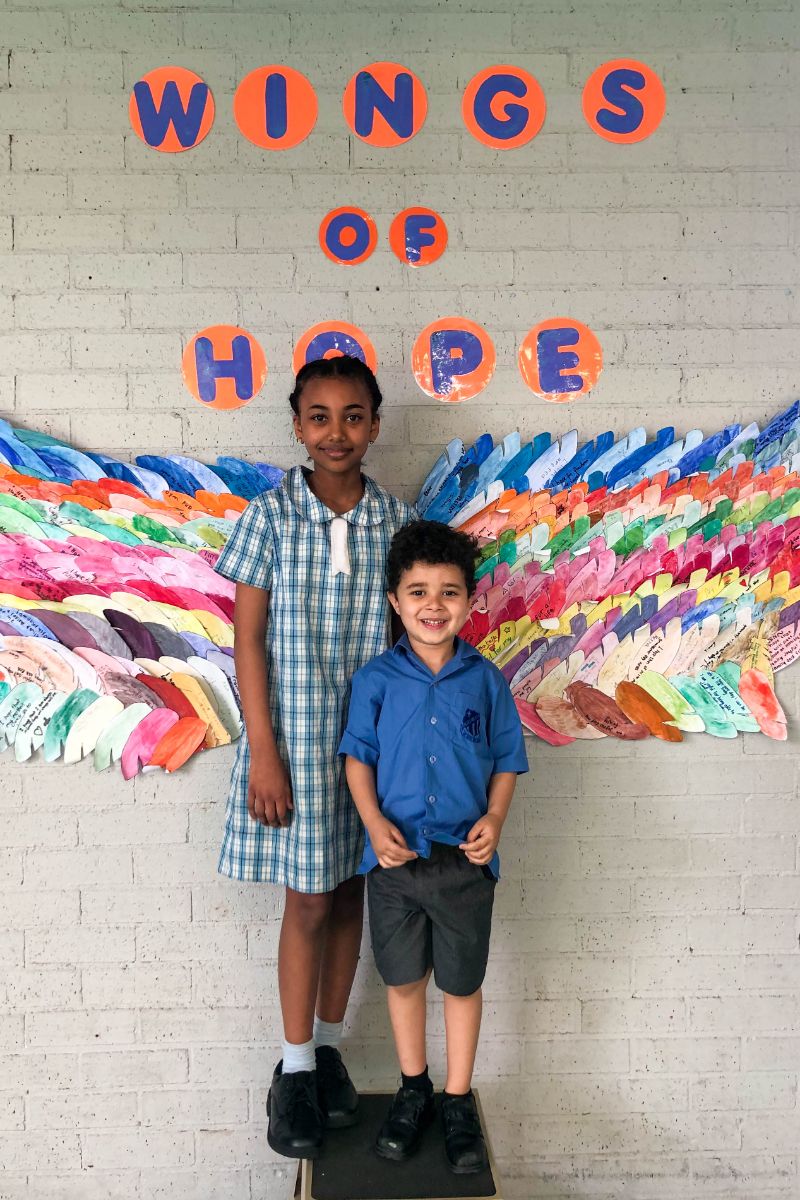 Joy
The Joy team created the 'Wings of Hope' prop. Students were invited to write what they hope for on a feather which made up the wings.
"I think having students write what they hope for on the wings was a good idea. It's as if our hopes will fly up and come true." said Evangeline (Year 6).
"I could see how we brought joy to all the students who were at our stalls," said Maryjane. "Not only were the ones visiting the stalls happy, the people who were running the stall also enjoyed themselves. I made paper cranes and felt really happy seeing kids play with them."
The Joy Journos team interviewed students around the school on their response to Mission week and reported on the outreach ideas and events.
Year 6 student Leyiana told them, "This project gave us a sense of teamwork, responsibility and participation. It gave us a moment to reach out to those in need, those who need to be thanked and those who need to be reconsigned."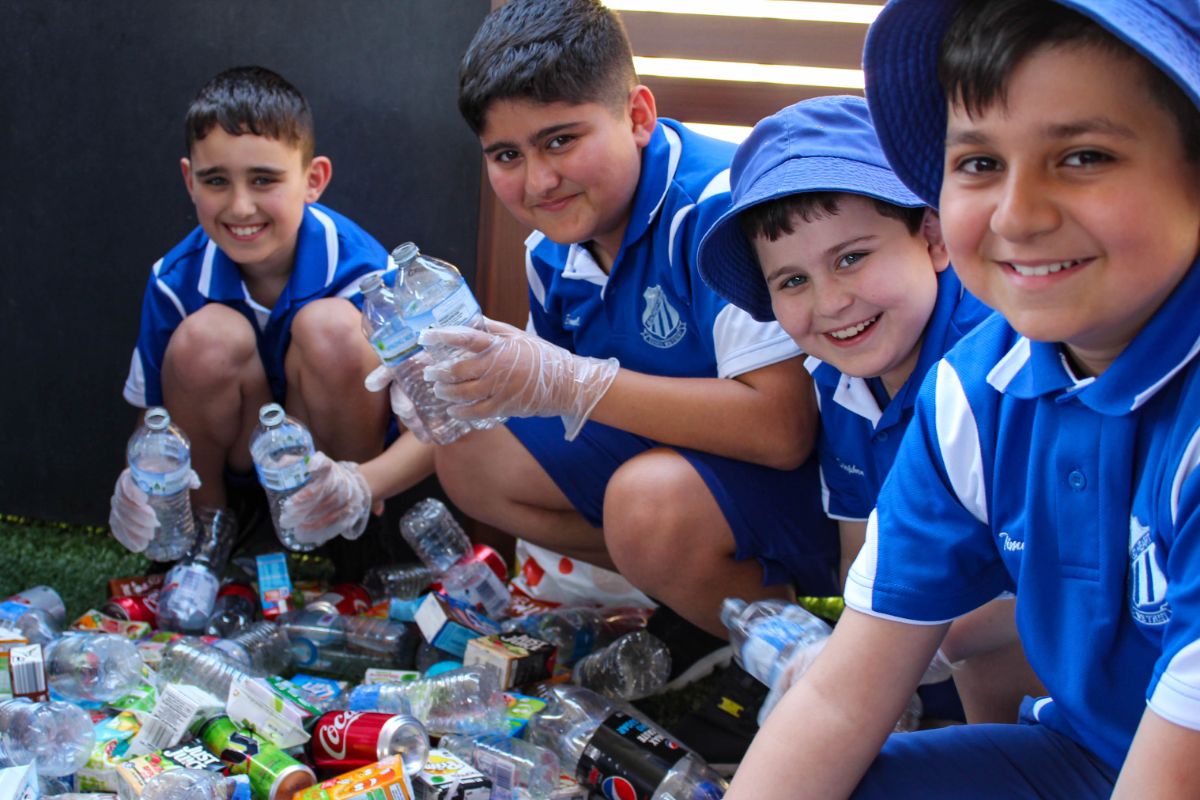 Vinnies
The Vinnies team set up a stall to receive bottle donations where funds from bottle donations were given to the St Vincent de Paul Society.
"We're incredibly grateful for Sacred Heart Primary's many donations since the centre opened in 2018," said Nick, the manager of the Bulk Container Deposit Centre at Penrith.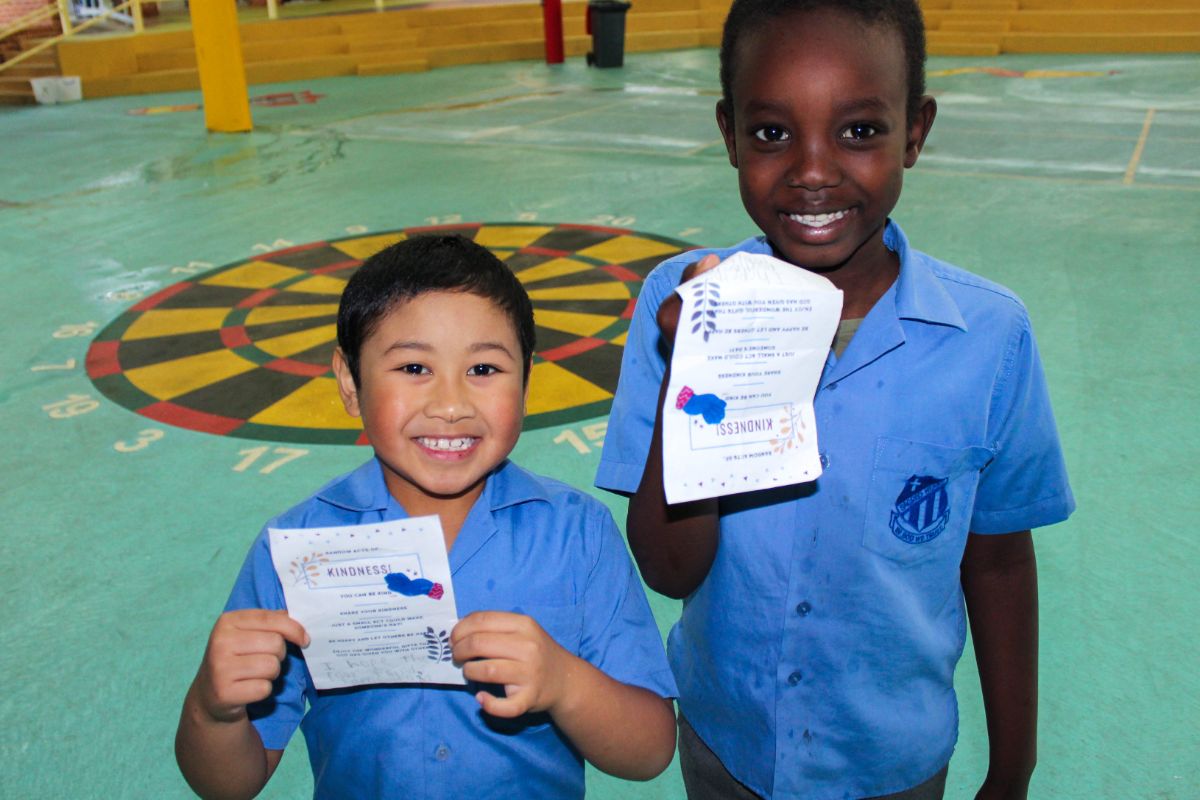 Random Acts of Kindness
The Random Acts of Kindness team invited students to take a card to give and receive acts of kindness.
"We hope the message kids took away from our stall is that money can't buy you happiness, it has to come from the heart," said Davina.